December 31, 2016
The surprising election of Donald Trump as our 45th president capped a year of unexpected developments.  The year began with a startlingly violent market swoon and V-shaped recovery.  In late June investors were again caught off-guard by the unanticipated U.K. vote to leave the European Union, which confounded the betting parlors and sparked a sharp but brief market sell-off.  The market quickly rebounded on expectations that central bankers would once again step in to provide additional liquidity to support financial assets following the uncertainty created by Brexit.  In September, amid high levels of investor skepticism, OPEC agreed to cut oil production for the first time in over eight years, leading to an immediate positive response in crude prices. Finally, in November, American voters shocked the pollsters and the pundits, and perhaps themselves, by electing Trump.
Similar to the Brexit vote, the U.S. election served as a populist revolt against establishment politics and policies that had mired the U.S. in years of political gridlock and uninspiring growth.  The market reaction was even swifter than Brexit, with financial markets plunging overnight only to recover by the next morning.  From there the S&P 500 proceeded to rally nearly 5% through year-end on the hopes that pro-growth policies would be implemented by a united Republican administration and Congress.
As Bank of America/Merrill Lynch stated on the front page of its January 3, 2017 US Performance Monitor report US stocks:  MVP of both the year and the decade, the "Route to outperformance [in 2016]:  Low quality, high beta, and Value."  While consistent with investors' improving outlook for the economy and corporate profit growth, especially post-election, these characteristics are the antithesis of our Clients' large cap growth holdings, which tend to favor higher quality, lower beta, and above-average growth.  Therefore, it shouldn't be surprising, given this backdrop, that the Institutional Equity (Large Cap Growth) Composite lagged its benchmark for the year.
Beneath the surface of the markets for most of the year, we witnessed a violent rotation that accelerated post-election as investors fled safe, defensive assets and secular growers for more cyclical stocks and beneficiaries of reflation.  A good example of this phenomenon was the almost 24% rise in the S&P 500 energy sector for the year contrasted with the 4%+ decline in the S&P 500 healthcare sector for the same period.  Another would be the fourth quarter decline of 2.7% in the S&P consumer staples sector versus the 20%+ gain in the financial sector for the period.  For both the quarter and the year, all of the return from the Russell 1000 Growth Index could be attributed to the cyclical sectors.  This return pattern contrasted with that of 2015 when a more balanced approach led the markets and our Clients out-performed both the Russell 1000 Growth and the broad market S&P 500 indices.
This is illustrated below in the chart titled: Large and Concentrated Cyclical Risk In Benchmark.  The dark blue bars represent the percentage of the Russell 1000 Growth's total return derived from cyclical (more economically sensitive) sectors.  The light blue bars represent defensive (less economically sensitive) sectors percentage contribution of the total return.  As is evident, the 2016 benchmark returns came exclusively from cyclical sectors and at the expense (negative returns) of the defensive sectors.  While the index has structurally become more cyclical, the average historical percentage contribution from cyclical growth sectors is around 70%.  The only other time the index posted positive returns exclusively from cyclical stocks was in 1999 – the height of the speculative technology bubble.  This return composition corroborates what Bank of America/Merrill Lynch reported in their Active Managers' Holding Update on January 3, 2017 – "Overall, active funds remain aggressively positioned, with their relative weight in cyclical vs. defensive sectors at a five year high, and with the highest beta exposure in the history of [their] data."
Large and Concentrated Risk in Benchmark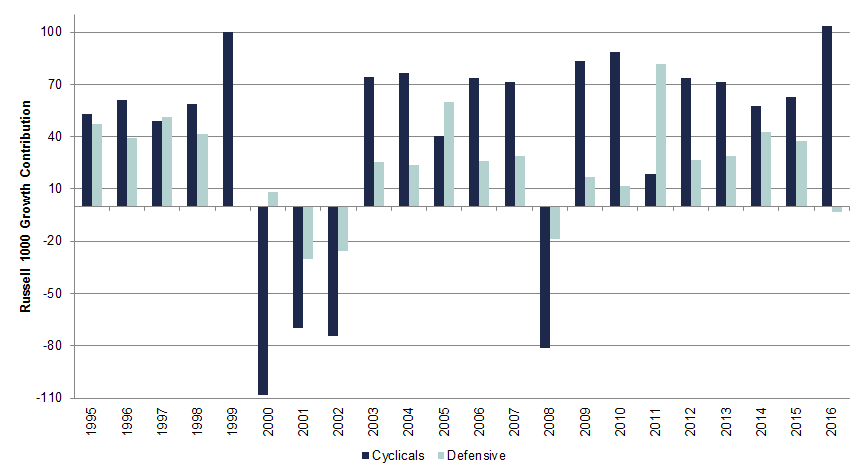 Source:  FactSet.  Defensive sectors include Healthcare, Staples, Telecomm and Utilities; all other sectors were defined as Cyclical.   Data as of 12/31/16.
While the market's post-election reaction is somewhat understandable, given the magnitude of the post-election rally, investors seem to be placing a lot of faith in the new administration's ability to successfully push its agenda through Congress without giving much credence to possible adverse offsets.  A combination of lower taxes, reduced regulatory burdens, and increased infrastructure spending, as proposed by Trump, indeed presents a powerful combination that would surely boost economic growth.  However, this comes at a time when we are already eight years into an economic expansion, when most pent-up demand has been satisfied, and we are operating at near-full employment.  Rising wages and commodity prices could be expected to spark greater inflationary pressures and, in turn, a more hawkish response from the Federal Reserve.  The initial reaction in the currency and bond markets therefore has not been surprising, with both the U.S. dollar and bond yields rising sharply.  A higher dollar and higher mortgage rates will likely serve as near-term headwinds to exports and housing, potentially dampening economic growth before the beneficial impacts of lower taxes, regulation, and increased infrastructure spending begin to be felt.
Additionally, there is no assurance that it will be smooth sailing for President-elect Trump in getting his agenda through Congress.   Trump's policies have sometimes been at odds with his own party and deficit hawks in Congress may balk at big deficit spending at this point in the economic cycle.  In addition, investors seem to be giving little thought to how Trump's trade policies and immigration restrictions may impact global growth.
All said, it is now up to policy makers to fulfill investors' hopes for improved growth to justify the rally in share prices that we've seen post-election.  With valuations full, bond yields rising, and investor sentiment overly bullish, any hiccups could lead to increased stock market volatility.  This is why balance matters.  Our Clients have always had a more balanced and diversified large cap growth portfolio.  While this balance was not rewarded given the rare and crowded cyclical trade we witnessed in 2016, we have great confidence in our Clients' balance going forward, particularly as we roll into the second half of the full cycle.  Importantly, the balance our Clients have, and historically and consistently have had, is not a top down decision.  Our discipline is active and centered around managing risk and exploiting mis-priced earnings growth.  As an active manager, we allocate our Clients' capital away from overvalued areas of the market and towards those areas with a better risk reward trade-off.  This discipline has been a meaningful source of alpha over full market cycles.  Like many other peaking half cycle environments (perhaps even a market top), we currently see a more compelling argument from a risk reward perspective with less exposure from economically sensitive growth stocks given that the fundamentals do not currently support the elevated valuations.  In addition, many of our Clients' sustainable growth stocks have largely been ignored, or worse, used as a source of funds for this cyclical rotation.  While everyone else crowds into this cyclical trade, we have been able to exploit a contrarian position with low earnings volatility and strong secular growth characteristics.  They are reasonably valued and we believe their earnings growth is more assured, which makes them well-suited to provide relative strength in a more volatile environment, while at the same time offering superior potential investment returns over the long term. As we have stated in prior reviews, but is even more important today – now is not the time to embrace risk.
A pick-up in stock market volatility in 2017 would create both opportunity and risk for investors.   Stock market sentiment data and high stock market valuations reflect a great amount of investor optimism.  The median price-to-earnings ratio for the S&P 500 is higher than in 89% of historical periods and the median price-to-sales and enterprise value to EBITDA ratios are at the highest level in our data series which goes back to 1990.  This suggests investors are not prepared for any disappointments that may occur with the timing and effectiveness of any fiscal stimulus; yet, at the same time, there is no discernable improvement in the economy.  Any corrections in share prices will offer opportunities as recession risk still seems low, particularly with the likelihood of additional fiscal stimulus.  Also, while the Federal Reserve is likely to raise interest rates two or three times in 2017, it will probably move in a cautious manner as long as inflation doesn't accelerate above its 2% threshold.  Finally, President-elect Trump's pro-growth and market friendly policies, if successful, along with an improvement in corporate earnings will be favorable for the market in the long run.