December 31, 2017
In 2017, U.S. equity market action appeared to glide effortlessly higher throughout the year, while below the surface shifting from value to growth, small cap to large cap and back again.  While the major indices posted solid gains this year, there were several notable, some might even say violent, underlying rotations that occurred throughout 2017.  However, overall market volatility as measured by the Cboe Volatility Index (VIX) remained extraordinarily subdued.  With the exception of a brief blip up in August associated with heightened geopolitical tensions on the Korean Peninsula, the VIX remained near all-time low levels throughout much of the year and downside market action remained extremely limited.   In fact, 2017 marked the first year that the S&P 500 (total return) produced a gain each month of the calendar year.  The S&P 500 (price only) hasn't suffered a 3% decline since before the presidential election in 2016, which is the longest such streak on record, and has not seen a 5% correction since June 2016.  Finally, both the Russell 1000 Growth and S&P 500 Indices posted their ninth consecutive calendar years of positive total returns.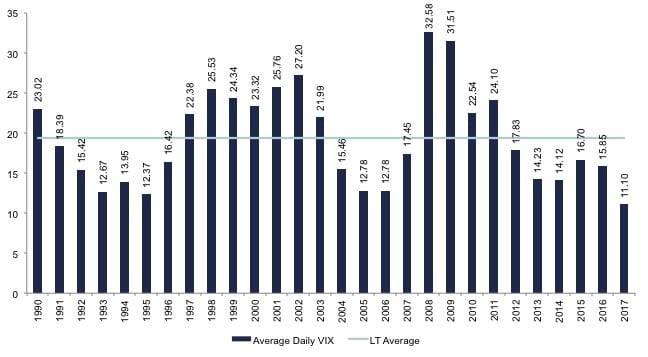 Source: FactSet as of 12/31/17
Calendar year represents the daily average VIX.  VIX is the Cboe Volatility Index.
The year began with a continuation of the vigorous rally which commenced following the 2016 U.S. presidential election.  That rally was lopsided with most of the upside accruing to small cap, cyclical, and value-oriented issues like financials, energy, materials and industrials, which were considered the biggest beneficiaries of President Trump's economic agenda.  In February, after the initial failure to repeal Obamacare, the "Trump stocks" that led the initial advance gave way to some of the secular growth issues within healthcare, consumer discretionary, and especially technology.  The final few months of the year experienced see-saw action, with a brief period in September and another in late November/early December that once again favored small cap and more cyclical areas of the market as investors focused on the administration's pivot away from healthcare reform to tax reform.
Can the tranquility that dominated 2017 persist in 2018?  Like most metrics in the financial markets, volatility tends to be mean reverting – periods of heightened volatility eventually flame out and markets calm, often with the help of policy makers.  Conversely, as economist Hyman Minsky noted, periods of stability often are breeding grounds for circumstances that ultimately cause a rise or spike in volatility.  In our opinion the answer to how market volatility evolves in 2018 will be found in what happens with inflation and interest rates.  As long as inflation stays low, the Federal Reserve should be able to continue raising interest rates in a gradual and predictable manner, which will help extend economic growth and enable corporate profits to continue to advance.
Before we turn to the risks, let us first examine a few positive factors as we enter a new year.  Despite historically high equity valuations, stock market investors do have a number of things working in their favor.  First and foremost is improved global economic growth.  The rest of the world is now growing in a more synchronous manner than at any time since before the Great Recession.   A second tailwind is profit growth, which is linked to improved global GDP growth.  Quarterly corporate profit growth is on track to produce the most consistent string of year-over-year growth since the early years of this economic recovery.  Third quarter sales and profits posted solid gains and looking ahead, consensus estimates for the December quarter indicate another quarter of healthy corporate profit growth and full year 2018 estimates imply that earnings momentum should be sustained.  The current FactSet estimate of $146.94 for the S&P 500 suggests full year growth of 11%.  While current estimates include some level of tax reform, given the complexity of the tax bill we think it will take time and company guidance for the full impact of the bill to find its way into profit estimates for the year.  We expect the 2018 estimate for the S&P 500 will settle somewhere in the low $150/share area.
Monetary policy is also likely to remain supportive of further market upside in the short run.  Though the Federal Reserve once again raised interest rates in December and began unwinding their massive balance sheet of bond holdings in October, both additional interest rate hikes and continued run-off of the balance sheet are likely to unfold at a very measured pace.  In addition, the Bank of Japan and European Central Bank both appear committed to providing market support through their liquidity programs and likely won't begin to tighten policy until later in 2018 or beyond.  In sum, major policy errors that might derail the market uptrend seem unlikely at this time.
Despite the numerous positive factors supporting the equity market, with both the stock and bond markets highly valued and a significant drawdown in share prices long overdue, we are sensitive to any developments that could cause the market to correct.  As discussed, we attribute the lack of volatility largely to very accommodative Central Bank policies.  With marginally less abundant liquidity available to the financial markets and stock markets highly valued and extended, it would not be surprising to see more stock market volatility in 2018 and an overdue drawdown in share prices at some point during the year.
We believe the our Clients' holdings are attractively valued on our work, will benefit from the ongoing global economic recovery, and are strong financially.  We think these attributes will prove to be rewarding in an environment where the global economy is advancing, but where stock market valuations are high and the cost of doing business is increasing due to higher interest rates.